Prof. Dr. Khalil Ahmed Ibupoto, Vice Chancellor, Shah Abdul Latif University, Khairpur inaugurated the Basant Festival at Model School of University.

Speaking during the inaugural ceremony, Prof. Dr. Khalil Ahmed Ibupoto said that Basant event is the event of multicolor, happiness and rejoice. I am very happy to witness the co-curricular activities of the students of Model School.

The Vice Chancellor remarked that co-curricular activities are an integral part of the academic activities which provide a viable platform for sense of competition and confidence among the talented youth. I am striving that this Model School will be elevated as one of the best schools of the country. The PC-I for its up gradation will be prepared and submitted to the concerned quarters.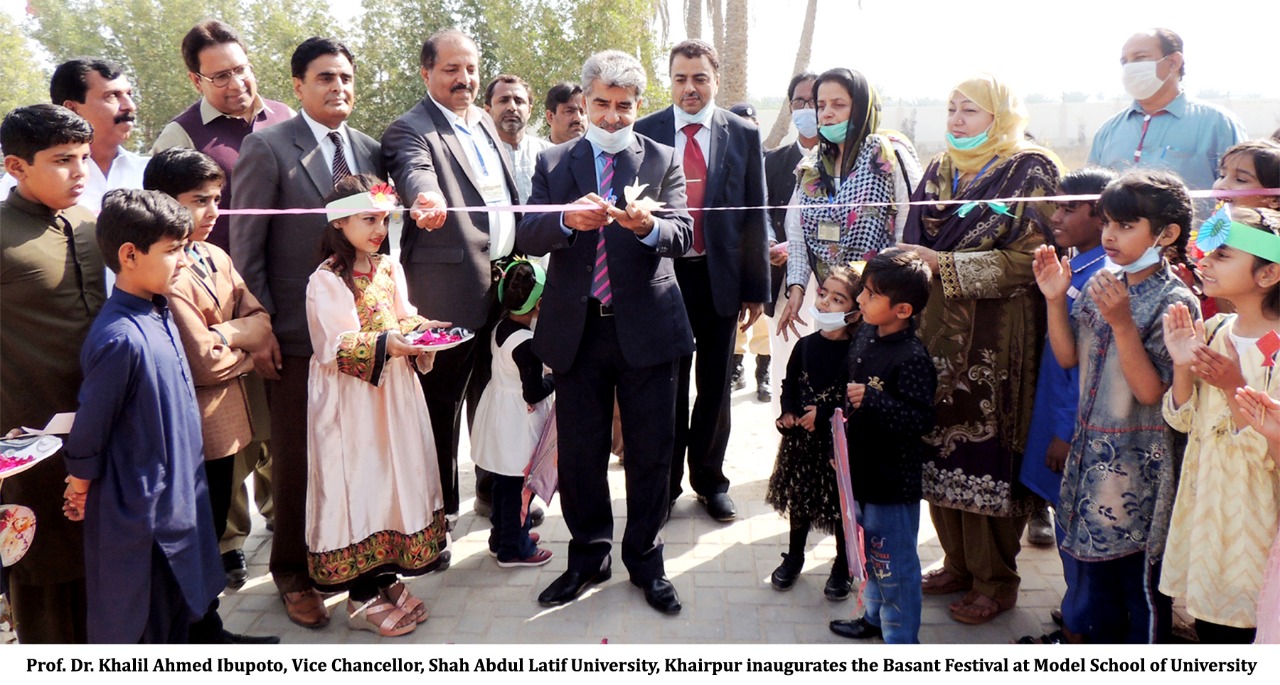 On this occasion, Madam Ghazala Shaheen Qureshi, Principal Model School cordially welcomed the guests especially the Vice Chancellor for their arrival at the event. She shed light on the curricular and co-curricular activities of the Model School. She said we are committed to provide education to the students at our level best on modern lines.

The students of the school presented the tableaus, folk songs and wore multicolored cultural dresses.  

Meanwhile, the Vice Chancellor Prof. Dr. Khalil Ahmed Ibupoto, Registrar Mr. Mureed Hussain Ibupoto and others planted the saplings of the indigenous trees.

Prof. Dr. Chandan Lal Rohra, Pro-Vice Chancellor, Shahdadkot Campus, Mr. Masood Ahmed Memon, Madam Amna Bhutto, Mr. Abdul Razzaque Shaikh, Mr. Bagh Ali Jalbani, Mr. Aijaz Ali Sial, Mr. Imran Ali Soomro, Madam Farzana Jamali and large number of teachers and students attended the event.