Prof. Dr. Khalil Ahmed Ibupoto, Vice Chancellor, Shah Abdul Latif University, Khairpur presided a Seminar on the theme "Let the City Go Green to think and Breath Clean" held at Sachal Auditorium, Khairpur organized by the Department of Economics, Shah Abdul Latif University, Khairpur.

While delivering his presidential address, Prof. Dr. Khalil Ahmed Ibupoto said that the purpose of this seminar aimed at to take the cognitive efforts for the green and clean the Khairpur city. He said we must pledge to take also concrete measures to control on environmental pollution.

The Vice Chancellor remarked that the trees are being chopped in our society, as result we have witnessed wide spread deforestation. It is recalled that Khairpur State remained green and clean in the advent of Khairpur Riasat. Dr. Ibupoto said it is our collective social responsibility to plant more saplings of trees for future generation. The Vice Chancellor said our students are talented, meritorious and well disciplined, he added.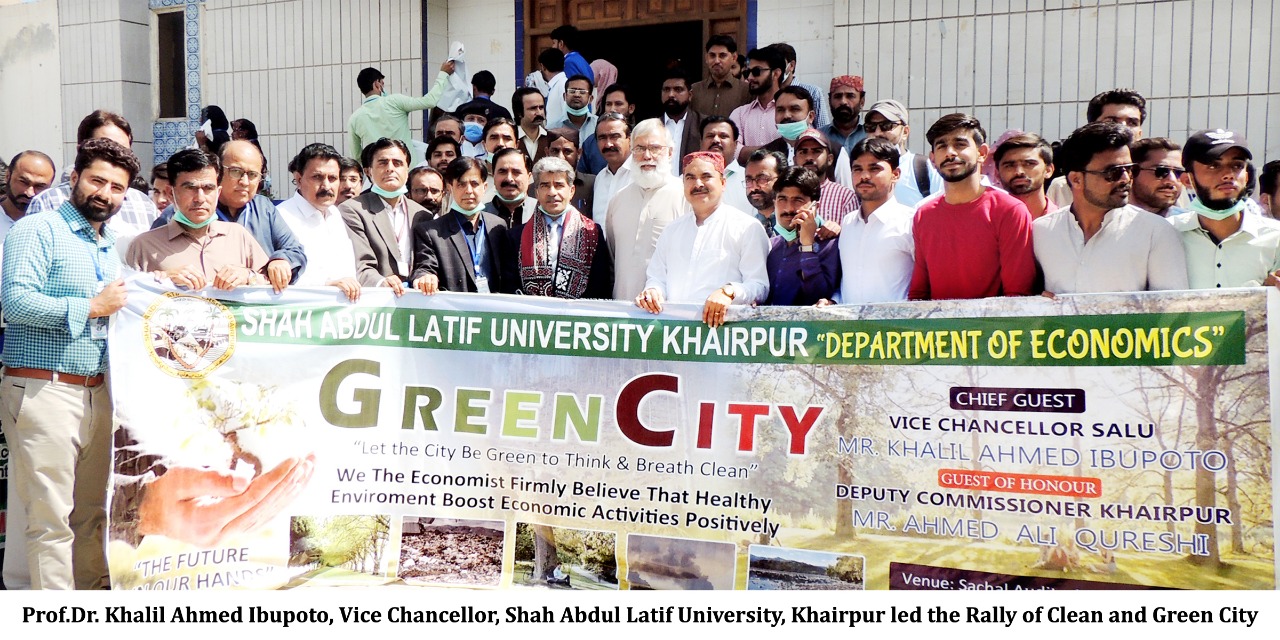 Prof. Dr. Muhammad Saleem Rahpoto, Chairman Department of Economics welcomed the participants of the seminar and shared the objectives of the seminar. He said this program will disseminate a soft message to the Civil Society and concerned Departments that a campaign may be launched for the awareness for the clean and green city.

A Rally was taken out from the Sachal Auditorium and it culminated at the Maryam Canon, Khairpur.   

Prof. Dr. Syed Asad Raza Abidi, Mr. Tahir Imtiaz Phulpoto, Mr. Ashique Ali Lashari, Mr. Abdullah Janwari, Media Persons and a large number of students and citizen attended the event.