Prof. Dr. Chandan Lal Rohra, Pro-Vice Chancellor, Shahdadkot Campus of Shah Abdul Latif University, Khairpur calls on Mr. Ahmed Ali Qureshi, Deputy Commissioner, Khairpur in his office.

Prof. Dr. Chandan Lal Rohra apprised the Deputy Commissioner, Khairpur that Shah Abdul Latif University, Khairpur is the third largest premier Public Sector University of Sindh caters the academic need of quality education for thousand of students. He pointed out that owing to immense financial crunch so we could not start any pace of work. He also mentioned that Prof. Dr. Khalil Ahmed Ibupoto has desired to convene a meeting with Deputy Commission, Khairpur to meet the some urgent requirements at the Main Campus i.e. provision of Sun Sheds, CC Paver Blocks and for the arrangements of beautification of Campus.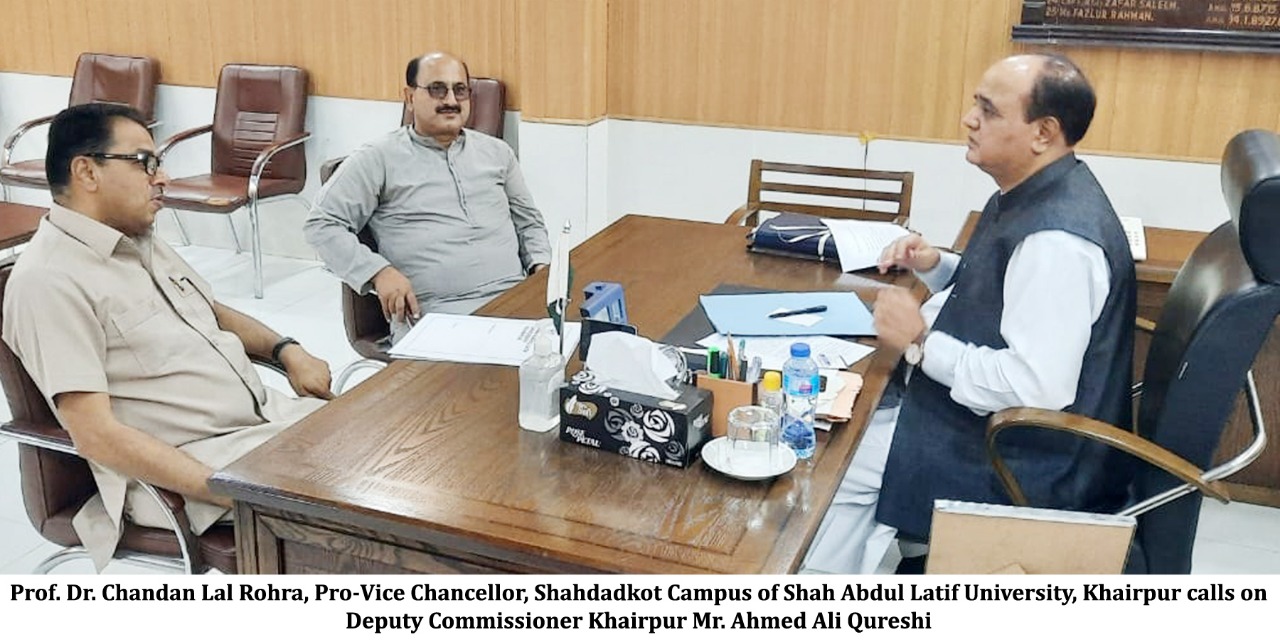 On this occasion, Mr. Ahmed Ali Qureshi assured the Pro-Vice Chancellor that CC Paver Block from Dual Carriage Way to Syed Qaim Ali Shah Sports Complex will be fixed and Sun Shed will also be installed. He said in the capacity of Deputy Commissioner, it is our social responsibility to support the educational institutions and other social welfare institutions falls under my jurisdiction, he added.

During the meeting, Mr. Faiz Muhammad Shaikh, Executive Engineer was also present.