Prof. Dr. Khalil Ahmed Ibupoto, Vice Chancellor, Shah Abdul Latif University, Khairpur distributed Laptops among 15 differently abled and physically challenged students of the various Departments and Institutes of University under Prime Minister's Laptop Scheme in the presence of Mr. Manzoor Ali Rind, Technical Monitoring Officer, Higher Education Commission (HEC), Islamabad.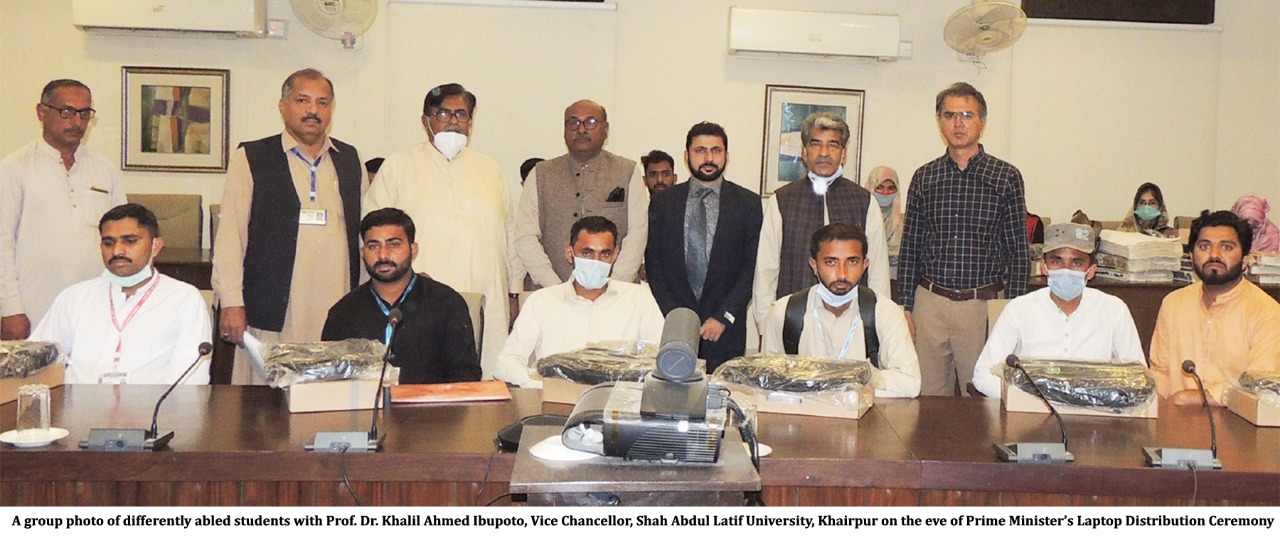 Speaking to the differently abled students, Prof. Dr. Khalil Ahmed Ibupoto said your abilities are matchless and energetic for the pursuit of higher education despite physically challenge. God has given more wisdom for you people in your personality. The Vice Chancellor commended the initiative taken by the Government of Pakistan and HEC, Islamabad to provide the laptops among the differently abled students. This facility will equip the students while pursuing their education on modern lines.

Dr. Ibupoto advised the Laptops recipients to divert your energies for the pursuit of knowledge based education, research and innovation for the betterment of the country and nation.

During the ceremony, Prof. Dr. Maqsood Zia Shah, Pro-Vice Chancellor Ghotki Campus and Focal Person of Prime Minister's Laptop Scheme, Prof. Dr. Taj Muhammad Lashari, Dean Faculty of Social Sciences, Mr. Mureed Hussain Ibupoto, Registrar, Mr. Imran Ali Soomro and others were present.