DR. KHALIL AHMED IBUPOTO VISITS DEPARTMENT OF ARCHAEOLOGY AND ITS MUSEUM

Prof. Dr. Khalil Ahmed Ibupoto, Vice Chancellor, Shah Abdul Latif University, Khairpur paid a visit of the Department of Archaeology and Archaeological Museum.

Prof. Dr. Qasid Hussain Mallah, Chairman Department of Archaeology extensively briefed the Vice Chancellor about his Department. He said Department is imparting quality education in terms of theory and practical. It is evidence that a huge collection of Indus Civilization in the shape of material is available in the Museum. Dr. Qasid briefed the Vice Chancellor that we have a rich journal named "Ancient Sindh", its 15th volume is ready for publishing which will cover the various aspects of research related with heritage and culture of Sindh and world heritage.

Dr. Mallah apprised that there is shortage of classrooms in the Department. He also briefed that Department has conducted research on site of Lakhian Jo Daro at Sukkur from year 2006 with the help of the students and faculty members.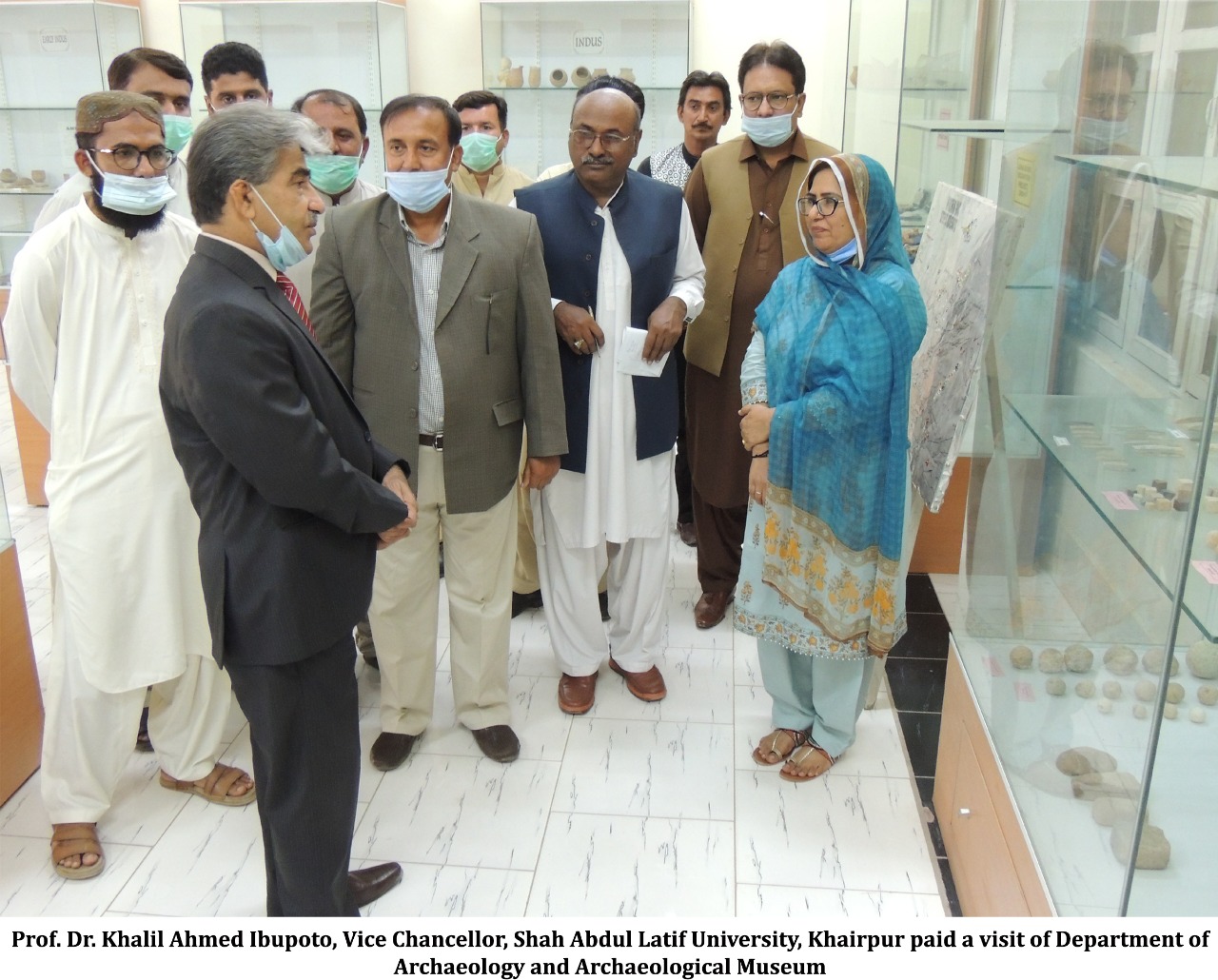 Ms. Tasleem Alam Abro Director Museum briefed the Vice Chancellor about purpose of establishment of Museum and apprised that the material which was available in the Museum relates with the Moen-Jo-Daro, Lakhian-Jo-Daro, Graveyards of Qadan Ja Quba, Stone-age civilization, Amri and Bhando Jo Qubo sites etc.

Prof. Dr. Khalil Ahmed Ibupoto said that I am very happy to visit this Department and Museum. Both are rich in research work. Dr. Khalil Ibupoto suggested the Director Museum to take initiative to sign Memorandum of Understanding (MoU) with Department of Geology University of Sindh, Jamshoro, University of Arts, Design & Heritage, Jamshoro and Pakistan Museum of Natural History, Islamabad for collaborative work. Dr. Ibupoto also stressed the need to get the recognition of research journal "Ancient Sindh" because recognition from HEC is concerned with certain parameters but one of the important milestone is quality.

Vice Chancellor advised the Director Museum and Chairman Department of Archaeology to prepare a revised PC-I to strengthen the Department and Museum simultaneously. Vice Chancellor also suggested that a Heritage Gallery, Talpur and Kalhora Periods Gallery may be established at the Museum.

Dr. Khalil Ibupoto remarked that the Sindh is rich in culture, traditions, civilization and norms. We have to maintain our past glory so the image of Sindh and Pakistan may be revived in the comity of nations, he added.

Prof. Dr. Taj Muhammad Lashari, Director Media & Public Relations and the faculty members of the Department were present.