CONSULTATIVE MEETING OF DEANS REGARDING STREAMLINING THE PGS HELD AT SALU

A Consultative and Review Meeting of Deans of all Faculties regarding streamlining the Directorate of Postgraduate Studies (PGS) was held at Shah Abdul Latif University, Khairpur presided over by Prof. Dr. Khalil Ahmed Ibupoto, Vice Chancellor.

Dr. Khalil Ahmed Ibupoto remarked that the Universities are recognized as centre of research and excellence by imparting research and development in the advanced world because Universities have direct interaction with the society for innovation, creation and development at large. He said it is my firm believe that conducive and congenial academic environment could be prevailed with the help of mutual trust and consultation. Dr. Ibupoto said that solid and concrete measures may be taken to improve the performance of every section.

Dr. Ibupoto said that with the supports of Deans the Directorate of Postgraduate Studies may be strengthen to work according to minimum eligibility criteria given by the Higher Education Commission. We have to adopt a pragmatic approach to stride and streamline the Directorate of Postgraduate Studies on modern lines.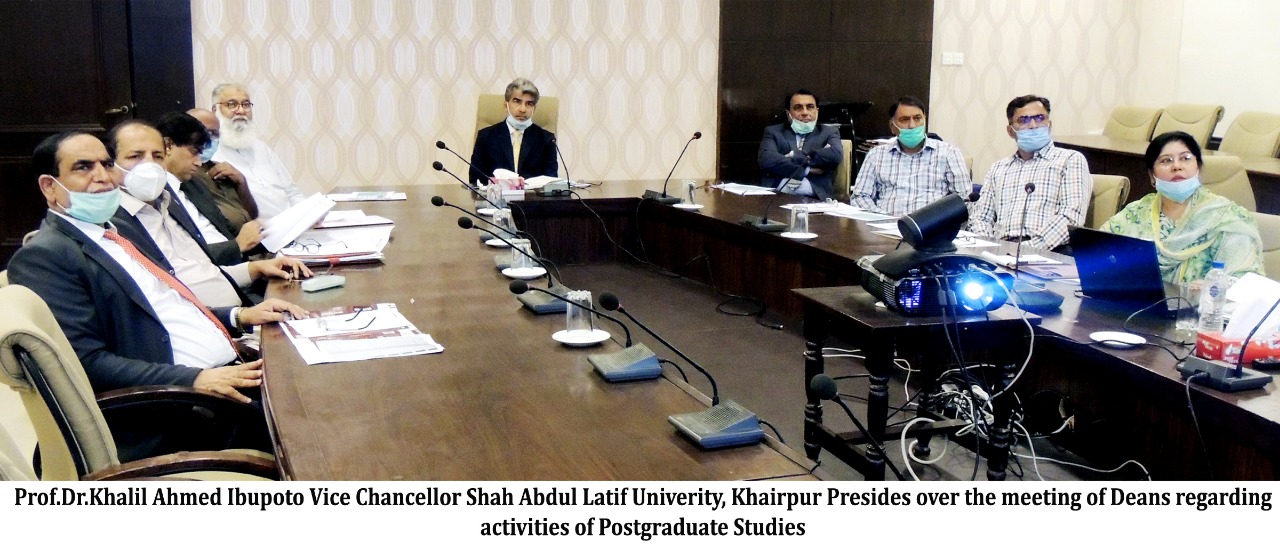 During the meeting, it was decided that administrative approval from the statuary bodies may be taken to launch M.S, M. Phil and Ph.D Programs as far as halted programs are concerned the Director Postgraduate will review and revisit accordingly category-wise, stage and as per its current status . In view of their halted status, the pertaining queries of Higher Education Commission will be completed within stipulated time. The special meeting of Board of Studies, Board of Faculties, Academic Council will be convened to improve the short comings in the way of admission process of Postgraduate Studies.

It was decided that the Deans of the all Faculties solely will be responsible for the conduct of M.S, M. Phil and Ph.D tests in their respective Faculties. It was resolved that Director of Postgraduate Studies will coordinate with Higher Education Commission on the matters which pertains to Directorate of Postgraduate Studies on emergent basis.

Prof. Dr. Mumtaz Hussain Mahar, Dean Faculty of Physical Sciences, Prof. Dr. Imdad Hussain Sahito, Dean Faculty of Social Sciences, Prof. Dr. Ghulam Mustafa Mashori, Dean Faculty of Arts & Languages, Prof. Dr. Mumtaz Ali Junejo, Dean Faculty of Management Sciences, Prof. Dr. Ghulam Abbas Shar, Dean Faculty of Natural Sciences, Advocate Mr. Manzoor Hussain Larik, Dean Faculty of Law, Prof. Dr. Tajnees Pirzada, Director Postgraduate Studies, Mr. Mureed Hussain Ibupoto, Registrar and Prof. Dr. Taj Muhammad Lashari, Director Media & Public Relations attended the meeting.