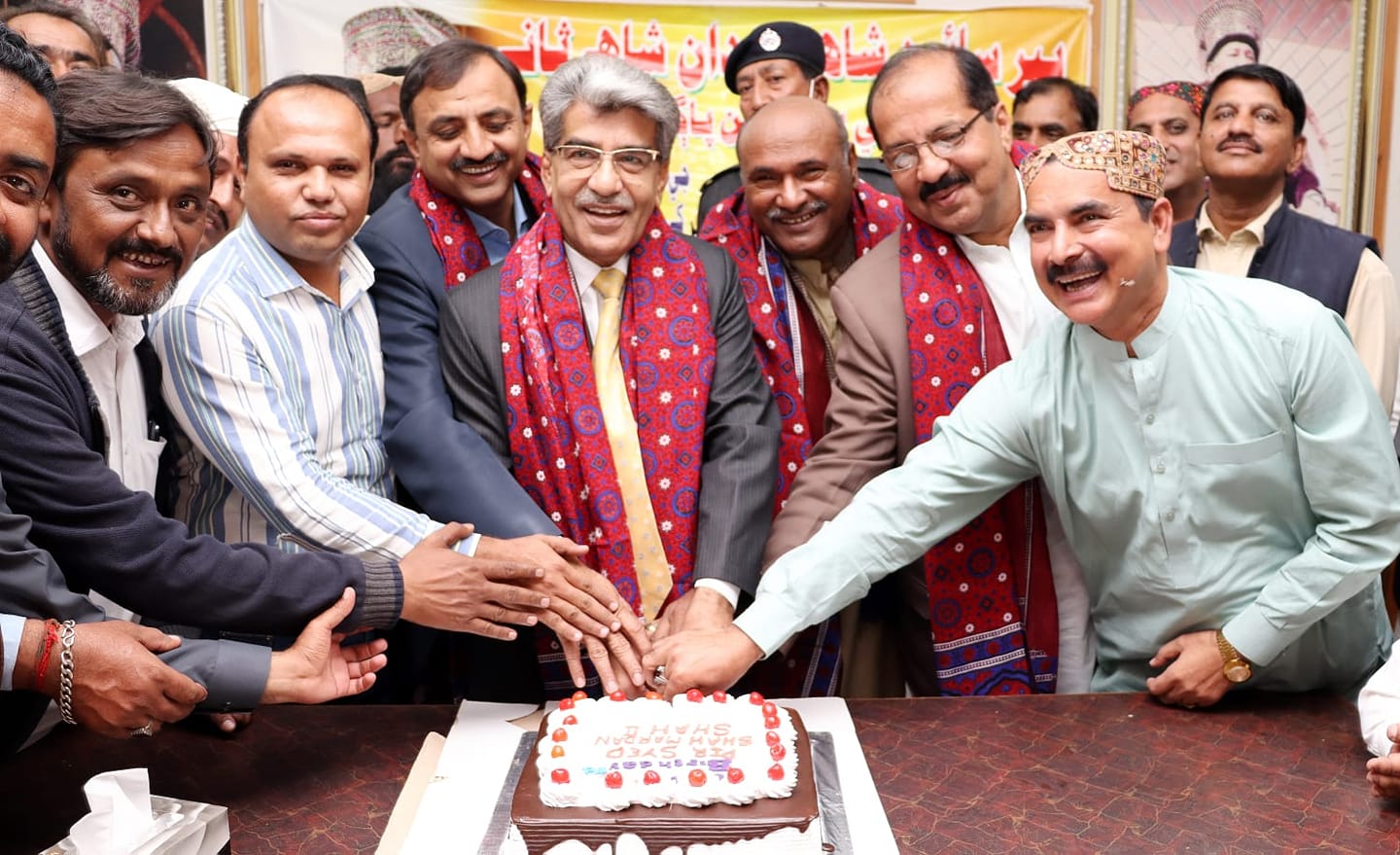 93rd Birthday of Hazrat Pir Shah Mardan Shah Celebrated at SALU
The 93rd Birthday of Hazrat Pir Shah Mardan Shah (II) Pir Pagara was celebrated at Shah Abdul Latif University Khairpur organized by Rozay Dhani Chair in collaboration with Sooriah Badshah Panel of Employees. Prof. Dr. Khalil Ahmed Ibupoto, Vice Chancellor Shah Abdul Latif University Khairpur was the Chief Guest on this occasion.
Talking to the participants, Prof. Dr. Khalil Ahmed Ibupoto said the personality of Hazrat Shah Mardan Shah was multidimensional. He was a spiritual and political leader of his time. He possessed excellent knowledge about society, history, philosophy, arstology and other multi disciplines. He was lover of books. It is glaring example that a marvelous library was established at Dargah Pir Jo Goth. Dr. Ibupoto said Dargahs remained the cradle of tolerance and peace. With the sense of ownership and determination we could work effectively and assertively work for the soft image building of our University.
The Vice Chancellor directed Incharge Director Rozay Dhani Chair to propose a Board of Directors order to streamline working of the Chair.
Mr. Muhammad Hassan Shaikh, Incharge Director, Rozay Dhani Chair briefed the Vice Chancellor that Rozay Dhani Chair was established in the year 2005, since its establishment 7 books have been published including famous Hur Movement which the devotees (Hurs) of Pirs fought against British Imperialism. He revealed 3 books are under publication. We have provided source material to 2 M. Phil and 1 Ph. D Scholars embarking research on Hur Movement and different topics related to Pagara Family. Mr. Shaikh said we have conducted series of conferences and extension lectures on the life and struggle of Prgara clan. Religious, social and political services of Pir Sahab Pagara will be remembered in the annal of history.
At the end Vice Chancellor Prof. Dr. Khalil Ahmed Ibupoto along with Prof. Dr. Taj Muhammad Lashari, Dean Faculty of Social Sciences, Mr. Mureed Hussain Ibupoto, Registrar, Mr. Nisar Ahmed Noonari, Director Finance, Mr. Qalandar Bux Bozdar President Employees Welfare Association, Mr. Muhammad Aslam Ghumro, General Secretary and others performed cake cutting ceremony. A large number of employees attended the ceremony.