THE OFFICE BEARERS OF PRESS CLUB KHAIRPUR CALL ON DR. KHALIL AHMED IBUPOTO

The Office Bearers of Press Club, Khairpur led by Patron In Chief Mr. Khan Muhammad and President Mr. Ghulam Qadir Soomro called on the Vice Chancellor, Shah Abdul Latif University, Khairpur Prof. Dr. Khalil Ahmed Ibupoto at Vice Chancellor Secretariat.

Prof. Dr. Khalil Ahmed Ibupoto cordially welcomed the guests. Talking to the media persons, Dr. Ibupoto said with your cooperation, consultation and feedback, we will reach the heights of success. I firmly believe in merit and team work. It is the responsibility of the media persons to highlight the developmental news items of the Institution and also indicate any negative aspect also because it is an imperative for balance reporting. He said I have no ambitions for prestige but to render my services with honesty and dedication. He said that this Alma mater is your, your kind cooperation is needed for its uplifting and over coming from financial crisis and I have maintained close liaison with the Govt. of Sindh and Higher Education Commission, Islamabad for availing a compact bailout package.

Dr. Ibupoto remarked that his utmost priority is to disburse the salaries and pensions to the staff timely.

The Vice Chancellor added that I have controlled the loopholes and I also believe in zero tolerance against corruption and malpractice and also believe in justice and fair play.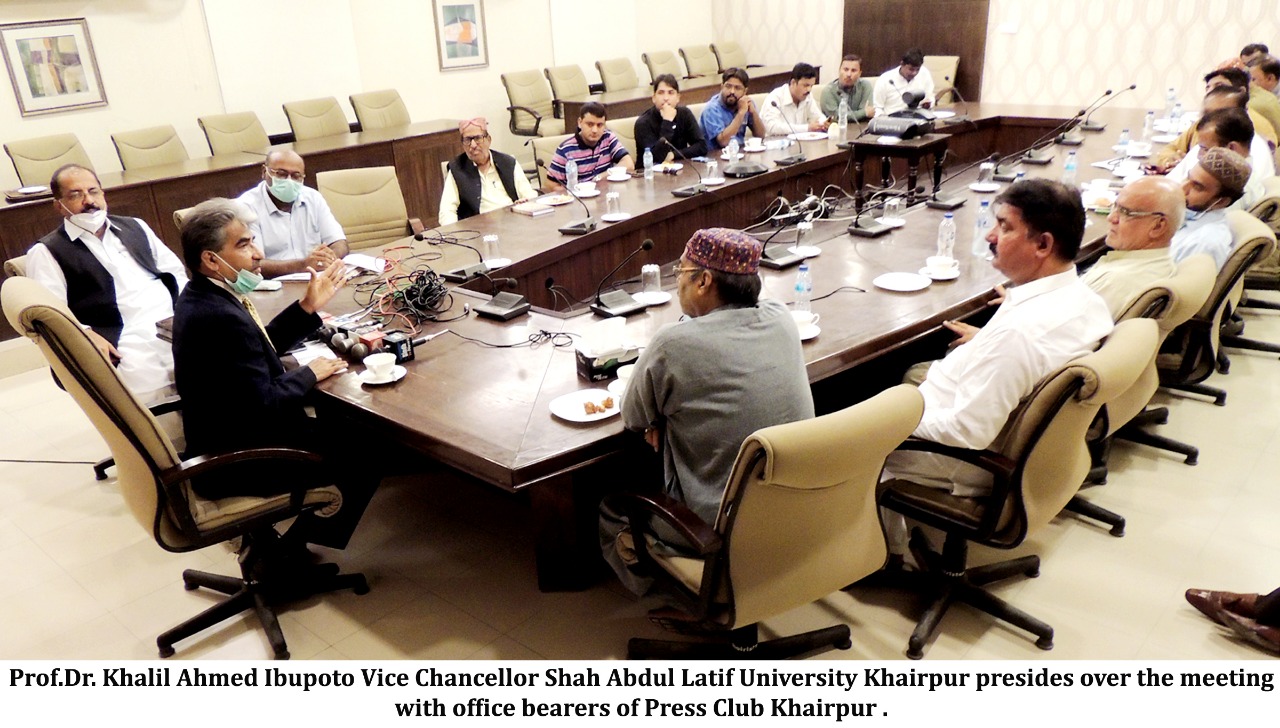 Mr. Khan Muhammad, Patron In Chief of Press Club Khairpur said, Shah Abdul Latif University is our Institution, without any benefit we are committed to serve this Institution honorary because the ideas of the Dr. Khalil Ibupoto are valued for this Institution based on his commitment and sincerity. He said, I have contributed a lot for the establishment of this Institution. He assured the Vice Chancellor that media fraternity will cooperate with the University for its Betterment.

Mr. Ghulam Qadir Soomro, President, Press Club, Khairpur appreciated the ideas of Dr. Khalil Ibupoto for over coming the financial crisis. He assured his that future cooperation will remain intact and invited the Vice Chancellor to pay a visit of the Press Club, Khairpur.

Prof. Dr. Taj Muhammad Lashari, Director Media & Public Relations, Mr. Mureed Hussain Ibupoto, Registrar and large number of media persons were present on this occasion.