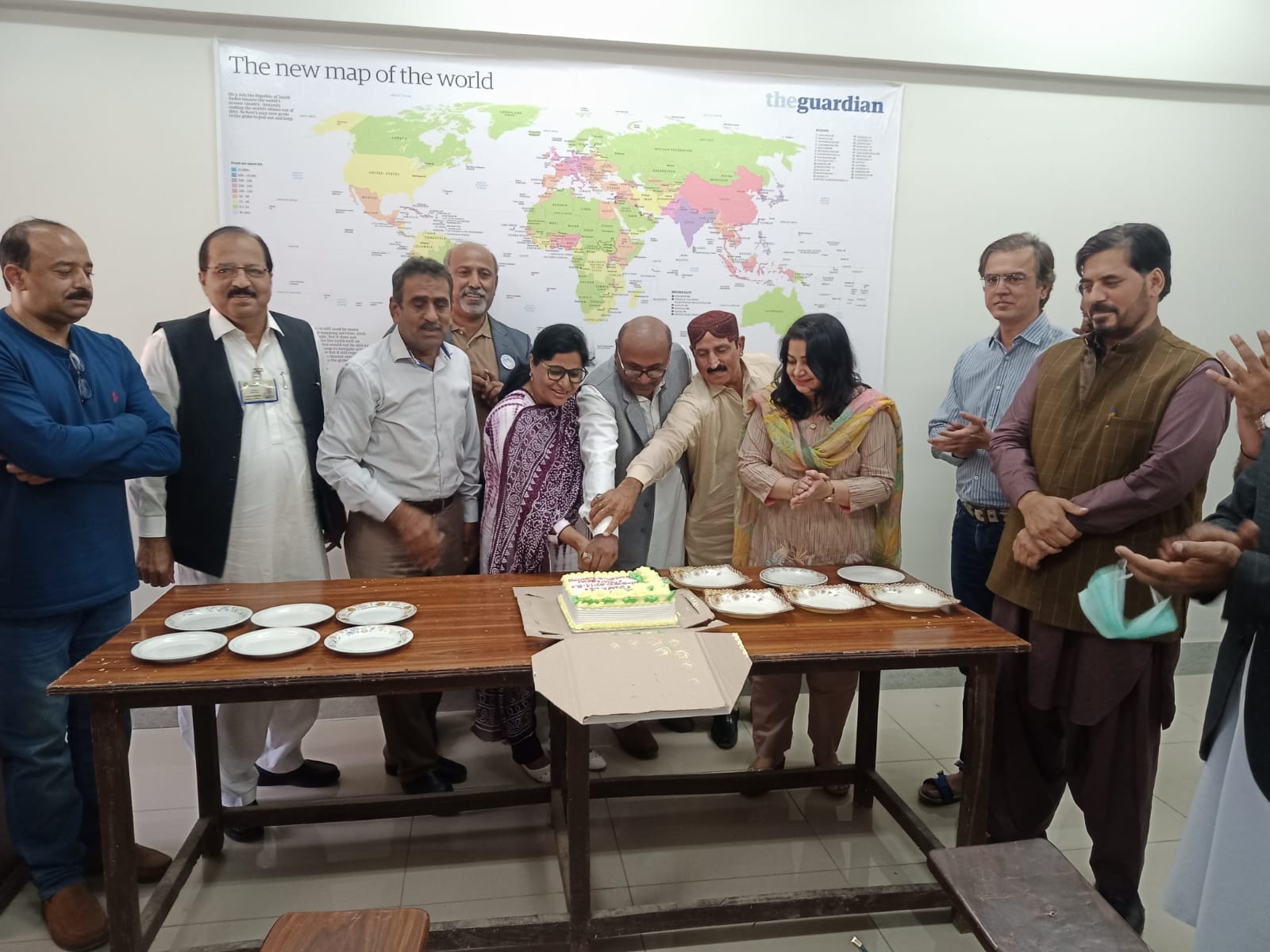 DIWALI DAY CELEBRATED AT SALU 
Diwali Day was jointly celebrated by Institute of International Relations, Shah Abdul Latif University, Khairpur & Rotary Club Khairpur Bhittai in the back drop of Four Days Training Workshop held at Lahore by Inter University Consortium for the Promotion of Social Sciences (IUCPSS). Prof. Dr. Taj Muhammad Lashari, Dean Faculty of the Social Sciences was the chief guest while Mr. Mureed Hussain Ibupoto, Registrar was guest of honor.
Talking at the occasion, Prof. Dr. Taj Muhammad Lashari said that Diwali is the festival of Peace, Tolerance, Interfaith Harmony, Inclusiveness and human plight. As per the vision of Prof. Dr. Khalil Ahmad Ibupoto, Vice Chancellor, it is our obligation to celebrate such days of dignified festival.
Further talking at the fest, Dr. Lashari highly acknowledged the role of Rotary Club Khairpur Bhittai for partnering in the peace pursuits . He said other organization especially IUCPSS is doing the signature projects at University for promoting the culture of Peace, Tolerance and Interfaith Harmony. 
Mr. Mureed Hussain Ibupoto said that the day of Diwali is coinciding with the vision of Vice Chancellor & leadership is striving for the every possible posture to create an environment of Peace on campus and in society through its dynamic faculty, officers, staffers and proud students.
Prof. Dr. Amir Ali Chandio also spoke on this occasion and commended the efforts of Institute of I.R & Rotary Club Khairpur Bhittai for celebrating the event as a gesture of Peace and solidarity with our brothers and sisters celebrating the holy ritual.
Dr. Liaquat Ali Chandio, Director Institute of International Relations warmly welcomed the guests and participants of event .
Charter President Rotary Club Khairpur Bhittai Sarfaraz Ali Korejo offered his full cooperation and support to University under the blessed leadership of Dr Khalil Ahmad Ibupoto.
A large number of the Directors, Chairmen, Chairpersons, Incharges of Institutes and Departments of Faculty of Social Sciences, Officers and Students graced the ceremony of cake cutting and reiterated to work for the promotion of human values.