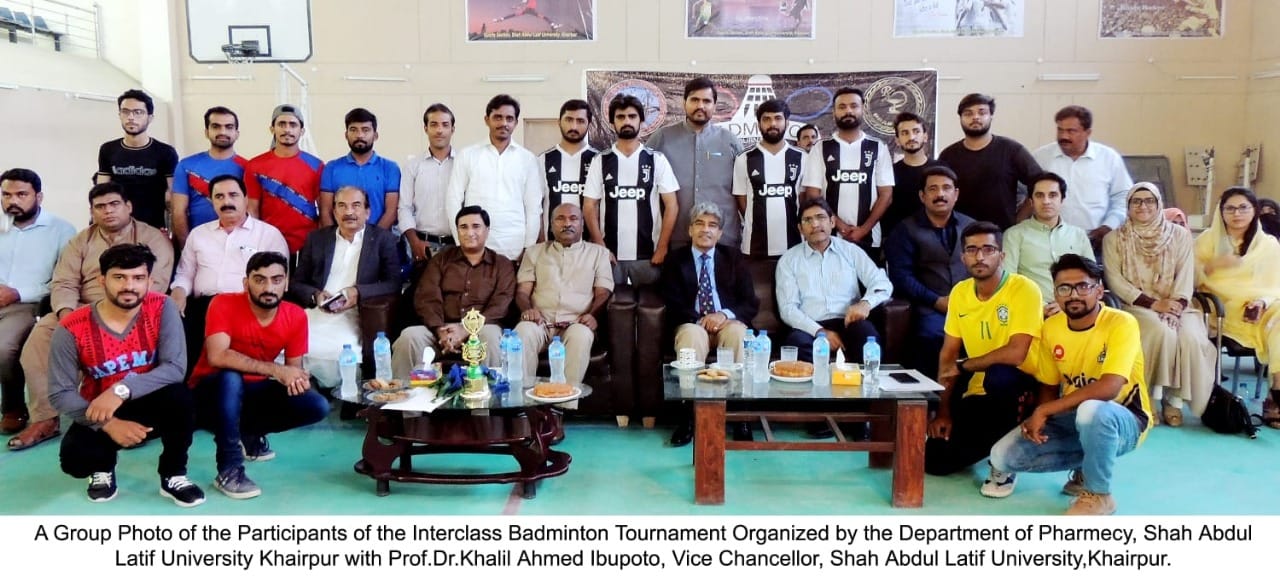 INTERCLASS BADMINTON TOURNAMENT HELD AT SYED QAIM ALI SHAH SPORTS COMPLEX
The Interclass Badminton Tournament was held at Syed Qaim Ali Shah Sports Complex, Shah Abdul Latif University, Khairpur jointly organized by the Department of Pharmacy and Sports Section. Prof. Dr. Khalil Ahmed Ibupoto, Vice Chancellor was the chief guest of the event.
Speaking to the participants, Prof. Dr. Khalil Ahmed Ibupoto said I am delight to see the change among the students after the low intensity of COVID-19 to take part in the sports activities. He said sports activism is a positive trend among the students because healthy mind could play pivotal role in the nation building. Despite financial crunch, we are committed to provide allied facilities to the students. Dr. Ibupoto remarked that within short span of time, the newly constructed building of Students Societies Services will be ready in order to provide a viable platform to different societies to render their co-curricular activities. Beside co-curricular activities, we are providing the quality education to the students of downtrodden class. Dr. Ibupoto said we are training them in line with moral, social and ethical values. We considered our students are our ambassador.
The Vice Chancellor appreciated the efforts of Chairman Department of Pharmacy Dr. Abdul Sami Shaikh, Chairman Sports Section Dr. Syed Baqir Shah, Mr. Ishrat Ali Mirani, Student Advisor, and Director Physical Education Mr. Muhammad Murad Pirzada and his team for organizing this healthy activity.
Mr. Asad and Mr. Samad Class B.S-IV won the tournament by 15-13. Mr. Aquib Ali and Mr. Noman Class B.S-III were the runners up.
Prof. Dr. Taj Muhammad Lashari, Dean Faculty of Social Sciences, Mr. Ghulam Mujtaba Jatoi, Deputy Director Physical Education, Ms. Saiqa Lashari, Mr. Taj Muhammad Mahar, Sports Officer, Mr. Zohaib Memon, Secretary to Vice Chancellor and others were present.