VICE CHANCELLOR PRESIDES OVER THE MEETINGS WITH INSPECTOR OF COLLEGES AND DIRECTOR ADMISSIONS

Prof. Dr. Khalil Ahmed Ibupoto, Vice Chancellor, Shah Abdul Latif University, Khairpur presided over the meetings with Inspector of Colleges and Director Admissions along with other officers of both sections.

Mr. Nazir Ahmed Mangnejo Inspector of Colleges briefed the Vice Chancellor that after less intensity of COVID-19, the affiliated colleges have been opened. The process of recovery of re-affiliation fees of colleges is underway. The date of admission of Associate Degree in Arts, Commerce, and Science is extended in order to admit the students in the new programs.

Prof. Dr. Khalil Ahmed Ibupoto directed the Inspector of Colleges that affiliation to private colleges as per minimum eligibility criteria of Higher Education Commission, Islamabad may be given on the basis of public private partnership and a mechanism and Terms of References (TORs) may be set. The Vice Chancellor also directed that efforts be taken for the establishment of new Study Centers of the University which may impart market oriented subjects in order to impart education to the students at their doorstep.

The Inspector of Colleges assured the Vice Chancellor that a comprehensive plan in this regard shall be submitted within 15 days.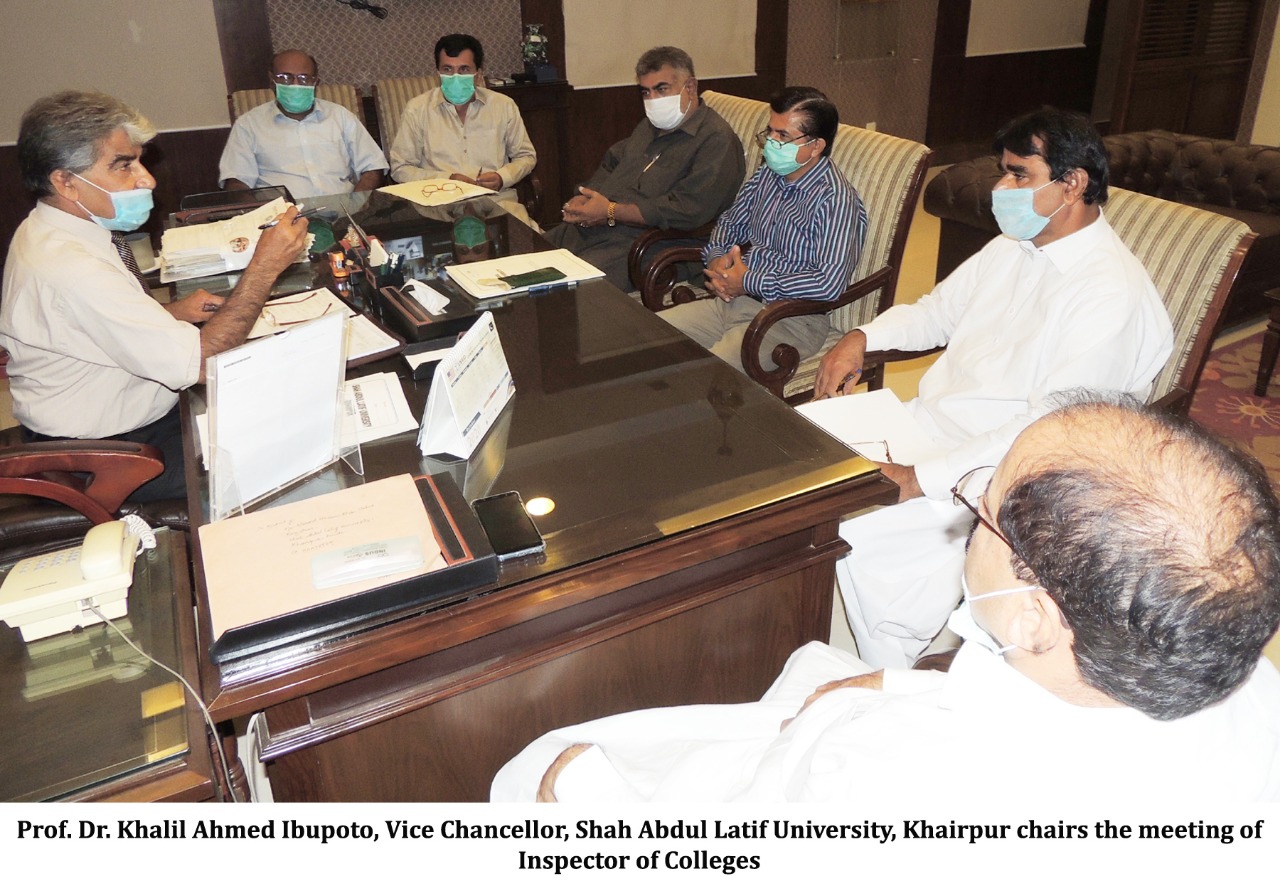 Meanwhile, a meeting with the Incharge Director Admissions Mr. Shahid Hussain Mahar and related officers was also convened. Mr. Shahid Hussain Mahar apprised the Vice Chancellor about the mechanism of admission process and admission policy. He said that first ever online admission process has been initiated by the University. The admission process has been started and its closing date has been fixed up to 26th October. The Pre-Entry Test of Bachelor Program will be held on 12th November and the Pre-Entry Test for Masters Program will be held on 13th November 2020.

On this occasion, Prof. Dr. Khalil Ahmed directed the Director Admissions that more transparency be maintained in the forth-coming admissions and admission committee be reconstituted representing Deans of all Faculties to supervise the entire admission process accordingly. Dr. Khalil Ibupoto stressed the need to the concerned to work hard with diligently and efficiently in their respective section for the convenience of public and students at large.

Prof. Dr. Taj Muhammad Lashari, Director Media & Public Relations, Mr. Mureed Hussain Ibupoto, Registrar and Mr. Ataullah Phulpoto, Director Education were present in the meetings.